Music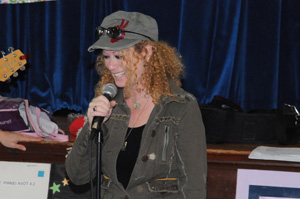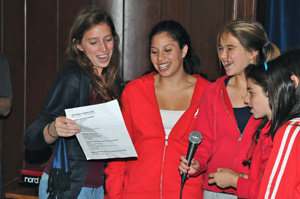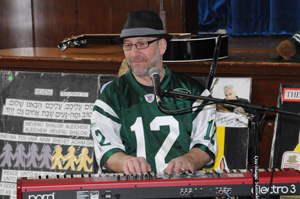 Hebrew Wizards has its first CD featuring original music that complements our Curriculum. With songs that teach us everything we need to know about being Jewish, it is music the whole family can enjoy. Our professional music staff has brought to life the songs from our heart that connect the generations.

For information on booking Hebrew Wizards educational Concert, please contact the Wizard or join us by RSVP to Deborah Salomon.



Album: Ahava Is Love
Released 2014. Parents Choice Award 2015
Purchase at iTunes




Album: Time to Shine
Released 2012. Parents Choice Award 2012
Purchase at iTunes




Single: Aleph Bet Rap Show Lyrics
Aleph Bet Rap
by Deborah Salomon

Sing along everyone to aleph bet
Learning all your letters and getting all set
Come on feel the rhythm and dance with me
Its just as easy as ABC

Aleph standing solo hoping for a vowel
Bet and vet at the beach wrapped in a towel

Gimel is a goat grazing by a tree
Daled's got daisies all pretty to see

Hay's in the hospital with a broken leg
Vav playing violin with a girl named Meg

Zayin is a zebra zooming on a bike
Chet is a Chupah looking pretty in sight

Tet is a teapot sitting on a log
Yud is a yoyo walking the dog

Caf and chaf are cousins playing ball
Lamed is the lightning when the rain starts to fall

Sing along everyone to aleph bet
Learning all your letters and getting all set
Come on feel the rhythm and dance with me
Its just as easy as ABC

Mem is a mountain reaching up in the sky
Nun is for Nelly baking a pie

Samech is a circle with a missing piece
Ayin sitting silent waiting for her niece 

Pay and Fay are flying on a plane
Tzadiic eating pretzels on a choo choo train

Koof is a kangaroo hopping in the park
Rash is a rabbi praying after dark
Shin and sin are shoes in the sand 
Tav tapping his toes…to the beat of the band

Sing a long to the rap of the aleph bet
Learnin' your letters on your mark get set!
The key is to know all your vowels as well
So whatcha waiting for the sound of the bell?

Aqua lines make you say ah and ah 
Add an aleph and bet and you say Aba

Red eggs in a clump…. more than two
With a gimmel- that makes Geh for you

Green pees can be yucky but they sound like eee
With a Daled and a hay you would say dee hee

When you got 2 dots sittin' side by side 
gray eyes are looking , you can't hide

Oh is yellow like a cold snow cone
Add a fay nun and call me on the phone 

If your scoop falls down we say ooh ooh
Dripping down your arm…. that makes me blue

So now that you learned your aleph bet
Hooray for you - you are all set

Go get yourself an ice cream blizzard
You've become, the newest Hebrew Wizard

Sing along everyone to aleph bet
Learning all your letters and getting all set
Come on feel the rhythm and dance with me
Its just as easy as ABC


Single: K'lal Yisrael
Show Lyrics
K'lal Yisrael
by Lizzie Swan

K'lal Yisrael K'lal Yisrael K'lal Yisrael
Take care of each other x2

There was a man named Haman
Had a hat with corners three
He tried to hurt the Jews
But Esther's courage kept them free

Queen Esther had a secret
She didn't want to tell
She told the king and saved the Jews
With K'lal Yisrael

K'lal Yisrael K'lal Yisrael K'lal Yisrael
Take care of each other x2

I'll watch out for you and you'll watch out for me
To protect our Jewish identity

K'lal Yisrael K'lal Yisrael K'lal Yisrael
Take care of each other x2

Sandy Koufax was a pitcher
For the Dodgers white and blue
On Yom Kippur he chose to pray
With all his fellow Jews

Like Miriam and Moses
Judge Devorah as well
They've taught us all to stand up tall
For K'lal Yisrael

K'lal Yisrael K'lal YisraelK'lal Yisrael
Take care of each other x2

Single: Yotzer Or
Show Lyrics
Yotzeir Or
by Jon Cobert

Yotzeir or, yotzeir or
Night and day, day and night
Yotzeir or, uvoray choshech 
Light and dark, dark and light

We thank you, God, for giving us
The nighttime and the day
The moon and stars that shine above
And the sun to guide our way

Baruch atah Adonai Eloheinu
Melech haOlam
Yotzeir or, uvoray choshech. 




Purchase the full CD!

Order your very own copy of our 12 track CD "Time to Shine", for only $15, plus $3 shipping to anywhere in the world.

10% of revenue raised goes to "Wizards around the World", helping Jewish Families Worldwide.

Once funds have been received, we'll immediately ship the CD to the address provided.



Read the review here.


© HebrewWizards, Inc. The Hebrew Wizards name, symbol and all contents of this website are copyrighted. All rights reserved.