Big Wizards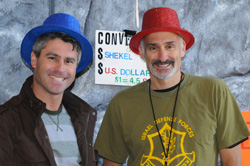 Discuss the meaning of being Jewish from prayers, to to the holidays to everyday life. We all share something in common and we want to explore ways we can enrich ourselves as we glean powerful messages from the Torah

Select Sunday mornings 10-11:15 at the Wizards Building.

Please refer to Calendar for dates.
© HebrewWizards, Inc. The Hebrew Wizards name, symbol and all contents of this website are copyrighted. All rights reserved.