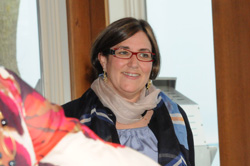 Prayer Learning Sessions

A special night class led by Rabbi Deborah explaining how to pray with meaning from all of your heart, soul and might.

We explain the Torah, our 5 Books of Moses, and how we may take the lessons to enrich our daily lives. We explain the prayers, what they mean, how to sing them and we discuss what they can mean for each of us as individuals.

We sing, we share stories and we walk away a little more knowledgeable then when we began the day.

Please look at the Calendar to see when these special nights of prayer learning will take place.

Please feel free to join us and bring a friend.

Open to all ages.
© HebrewWizards, Inc. The Hebrew Wizards name, symbol and all contents of this website are copyrighted. All rights reserved.